TEAM, HISTORY, AIMS AND OBJECTIVES
FEDERATION
Georgian Records Federation is the national governing body for the record-breaking achievements, representing the Georgian records both inside and outside the country.
The main goal of the Federation is to develop a record-breaking field and verify & certify record-related facts and feats.
The Georgian Records Federation registers national, continental and world records achieved by Georgian citizens or established in the territory of Georgia, in accordance with it's own charter and international standards.
The Federation cooperates with the Ministry of Culture, Sports and Youth of Georgia and the Georgian Anti-Doping Agency, as well as with international record-certifying organizations.
TEAM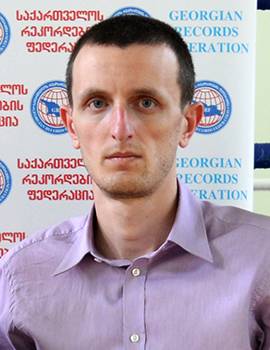 David Begiashvili
President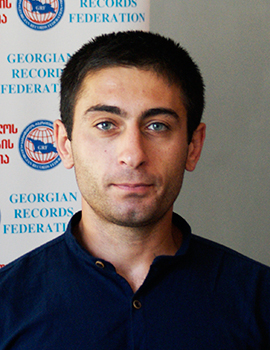 Mamuka Ormotsadze
Secretary-General
Ana Lominadze
Chairman of the Referee Committee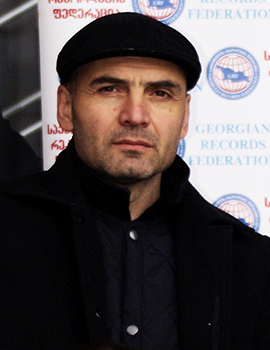 David Kharatishvili
Main Referee
TIMELINE
2012 - ESTABLISHMENT
On February 6, 2012, the Georgian Records Federation was officially registered in the National Agency of Public Registry of Ministry of Justice of Georgia
2012 - PARTNERSHIP
Since its establishment, the Federation began to cooperate with the editorial office of "Alternative Records Book" (Germany)
2012 - FIRST RECOGNITION
The first record event organized by the Federation was approved by the Guinness World Records (UK)
2012 - WEBSITE
On June 21, 2012, the Federation launched a website: www.georgianrecords.com
2014 - THE FIRST GEORGIAN RECORD IN THE "Ripley's Believe It or Not!"
The record achieved by Georgian record holder Ana Lominadze, was published in the 2014th edition of the popular British book - "Ripley's Believe It or Not!"
2014 - RECORD ON LIVE BROADCAST
On January 23, 2014, for the first time in the history of Georgia, the world record was set on live TV Broadcast
2015 - PARTNERSHIP
The Federation began to cooperate with the "Record Holders Republic" (Great Britain)
2015 - WINNING
George Rostomashvili became the winner of Record Holders Cup and the GRF team won the 2nd place in overall ranking
2016 - RECOGNITION
On February 22, 2016, the Federation gained recognition from the Ministry of Sport and Youth Affairs of Georgia
2019 - PARTNERSHIP
On November 3, 2019, a Cooperation Agreement was signed with the Georgian Anti-Doping Agency
2020 - NEW WEBSITE
On June 10, 2020, the Federation launched a new website: www.grf.ge
2021 - THE DEVELOPMENT CONTINUES!
GRF has registered more than 100 records since its establishment, we have a internationally licensed referees, our results have been recognized by all international record-certifying organizations at various times. there are largest commercial organizations and  government agencies among our partners/clients. We'll continue to work hard to achieve new successes!